Output Artist Additions: Modern String Beds
Music producers Jimmy LaValle, Dot, and The !llstrumentalist make brand-new tracks with the Modern String Beds addition on Analog Strings.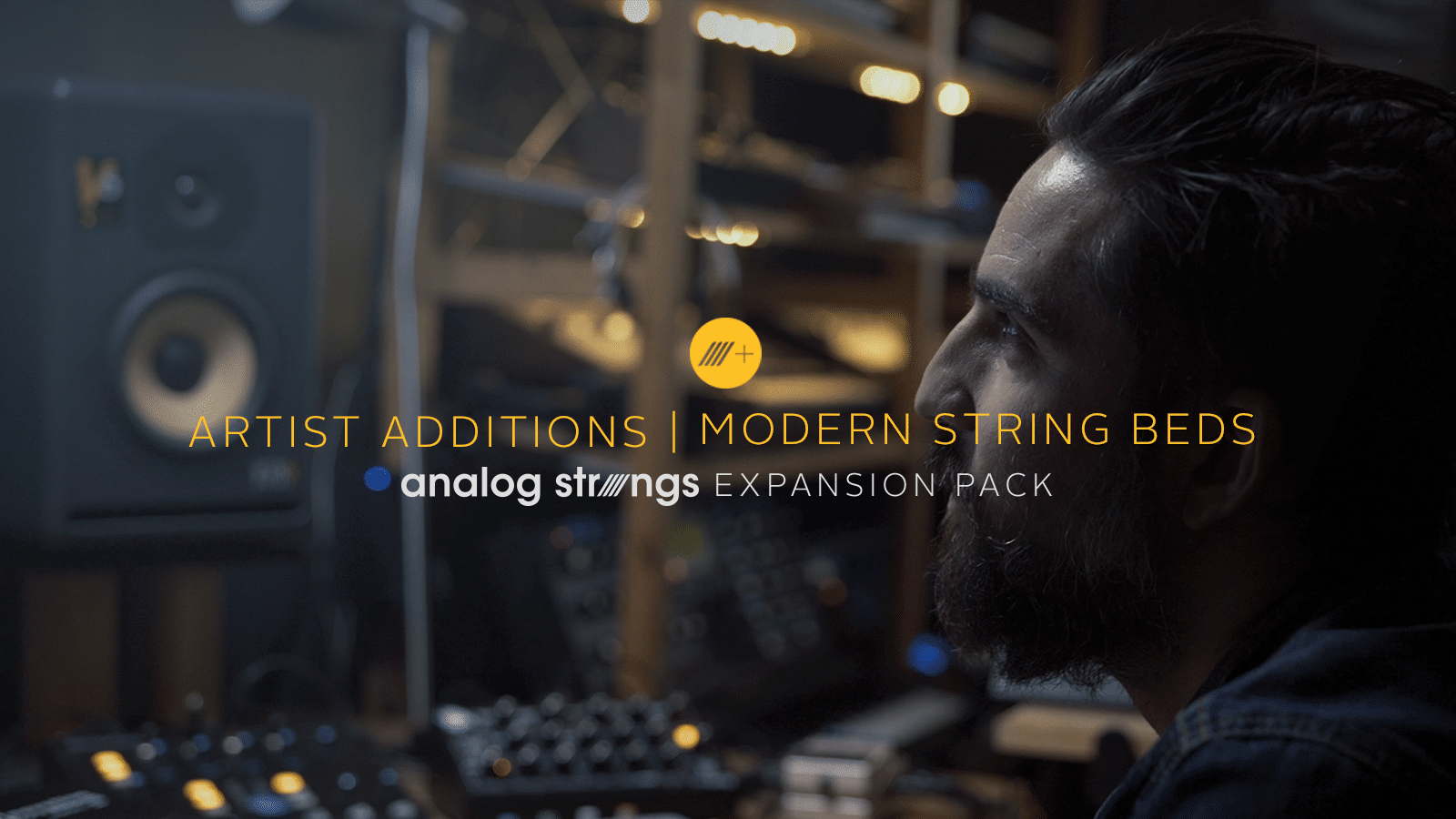 Composing string arrangements with a DAW can be easy and painless. But only if you're truly touched by the sounds you're working with.
There's nothing like lifeless virtual strings to ruin what should be an exhilarating process. The notes might be perfect, but what's the point if the samples don't match their quality?
Analog Strings is considered a revolution by many because it's all about giving composers an inspirational starting point. Browse through a few presets and you'll eventually find the right fit for any production, whether it's classical or contemporary.
Some producers who fell in love with the engine got their hands on The Modern String Beds expansion pack before anyone else. With its rich collection of hybrid strings, stirring plucks, and ambient pads, this library brings a distinct cinematic flavor to the table.
Take a listen to the examples below to hear for yourself!
Jimmy LaValle of The Album Leaf
Electronic musician Jimmy LaValle is a pro at weaving brilliant soundscapes. As the brains behind The Album Leaf, he has journeyed through various genres from ambient to post-rock over the years. His skills are diverse and his taste is always on point.
LaValle is especially great at combining acoustic samples with synthesized sounds. Perhaps that's why he's picky when it comes to choosing the right virtual strings to incorporate into his arrangements.
"I feel like no matter what, you can't really get the response of a violinist," he admits and quickly adds, "but Analog Strings is the closest thing, if not the best that I've actually experienced."
Still, sometimes the real thing is not what's needed. An unaltered violin sample can be a perfect fit next to an acoustic piano accompaniment. But in an ambient composition, multiple layers and FX might be needed to mesh that sample with the other instruments.
"The engine inside of Analog Strings is really powerful. There are two voices, and you can do a global FX run simply by clicking and turning things on and off," says LaValle. "Also, the macros are really cool because they're sliders. The interface looks awesome."
We consider ourselves lucky to witness him breathe new life into Modern String Beds sounds. In this track, he uses presets like Warbling and Piano Wander, which he finds under the creative section. Then, he turns to pizzicato strings to add some movement.
What LaValle enjoys the most while working with Analog Strings is its vast potential. Sometimes, hitting the random button can create an unexpected polyrhythmic texture. Once he collects the samples he needs from the Modern String Beds pack, it's much easier to fill in the blanks.
Dot
We knew that the soulful singer and producer Dot would make some incredible tunes with the Modern String Beds presets. What we didn't expect was how perfectly the hybrid string pads would complement her sultry vocals! Just take a listen to this wonderful snippet of her song, "Silence is Golden."
Do you hear those rich chords playing back from Analog Strings? Her elegantly reverberated voice? And that lazy and warm electric guitar? We love this melancholic easy-listening experience!
Sarah, The !llstrumentalist
It's always fun to watch producer extraordinaire Sarah, The !llstrumentalist work her magic. The Epidemic Sound artist has been inspiring musicians around the world via her YouTube tutorials for several years.
Lucky for us, she made a video dedicated to the Modern String Beds expansion pack. In it, she triggers the string and synth samples with different controllers to experiment.
The way she strums plucked strings with her guitar-like MIDI controller, Artiphon Instrument 1, is absolutely fascinating. Is it a harp? Is it a lute? Who can tell? All we know is that the results sound amazing!
Benjamin Gray
When sound design expert Benjamin Gray received the Modern String Beds pack, he decided to pair it with the Serge modular synthesizer.
In this very informative video, he starts out by designing the 808 elements from scratch. Though Gray admits that he's not one to use presets, the Modern String Beds addition seems to have changed his mind.
"Literally every preset in this pack is its own gem." says Gray. And that's exactly why he relies on Analog Strings for all the chordal elements in the track.
Combining the presets Walkie Talkie Synth, Stuck On Everest and Frigo Lights, he creates a dreamy beat.
Want more orchestral instrument sounds to play around with? Check out the Overture Line in Arcade.