Artists Experiment with the Dystopian Bass Line for Substance
Producers Sweater Beats, Drum & Lace, and Thomas Piper showcase some of their favorite sounds from the Dystopian Bass pack.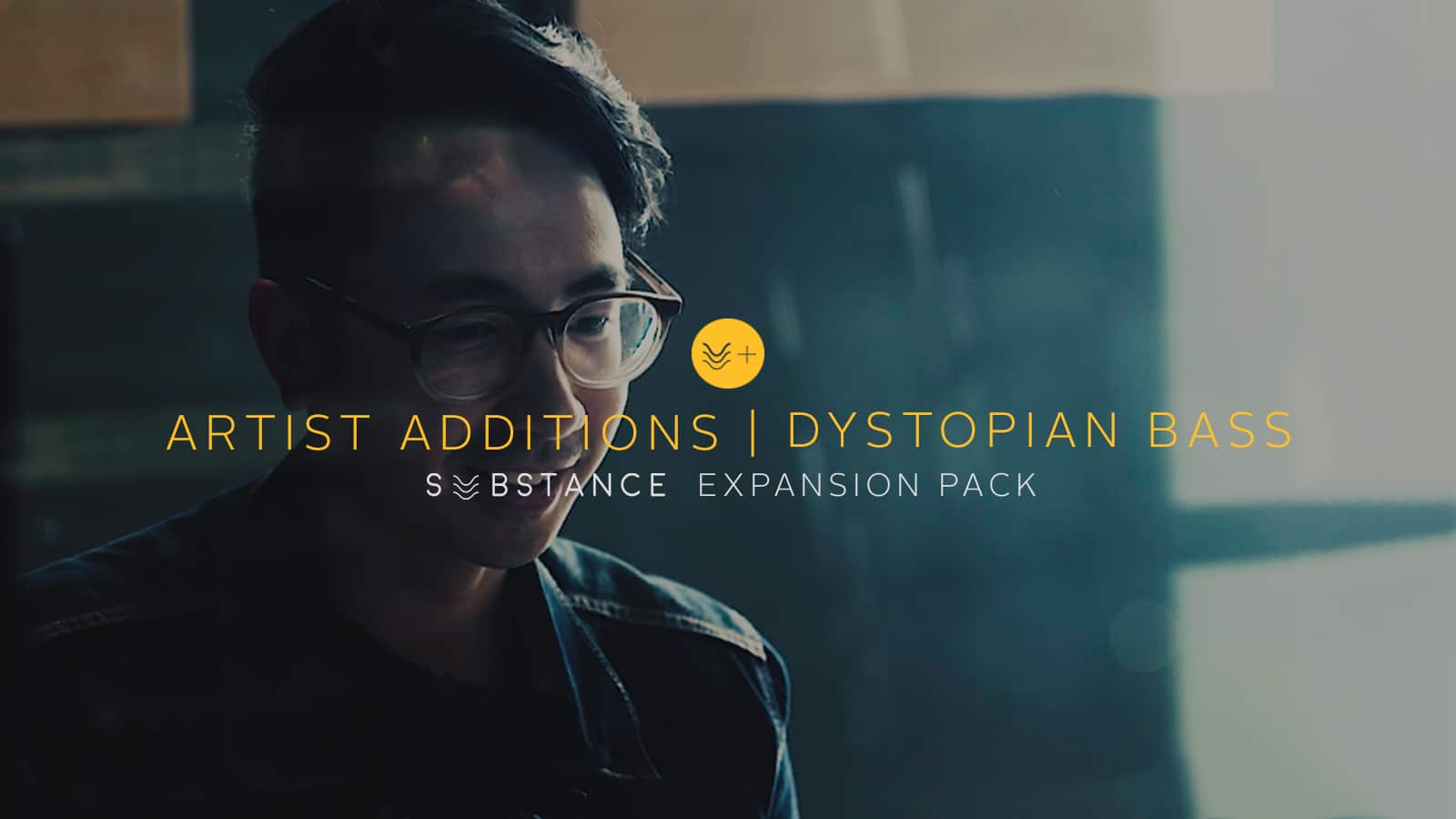 With an earth-shaking sub module and two additional sound generators, SUBSTANCE is the one synth bass you'll never get sick of. Turn all the layers on and you can easily combine a triangle sub with a bass guitar and tuba if that's your wish!
When you're dealing with such an expansive software instrument, you never run out of options. But just in case the presets readily available in SUBSTANCE don't cut it, the additions are here to broaden your horizons!
The Dystopian Bass pack in particular is the bread and butter of many EDM producers and film composers. It's packed with all the hits, booms, drops, and risers you're looking for and more.
Producers Sweater Beats, Drum & Lace, and Thomas Piper showcase some of their favorite sounds from the pack.
Punchy and bouncy
Los Angeles-based Antonio Cuna (aka Sweater Beats) has been an active artist for almost a decade. He has worked with the likes of Kimbra, Flume, Chet Faker, and Lizzo, to name a few.
As Cuna gets his hands on the Dystopian Bass sounds, one thing becomes abundantly clear. To him, making music is pure joy that makes you want to dance in your seat!
He sifts through the dirty and raw presets. After a sonogram-like patch comes a massive riser. Then, he finally stumbles upon a simple but punchy bass. He runs it through FabFilter's multi-band distortion plugin Saturn 2 and shapes it with EQ.
Using a drum loop as the backing track, Cuna plays the Dystopian Bass sound on the MIDI keyboard at Output studios. He tops off the bass line with some vocal chops from EXHALE. The sound transforms once he pitches it up with the Soundtoys Little AlterBoy.
At the end, the bassline becomes the star of the show without taking up too much space. Cuna's groove turns out to be bouncy and chill at the same time.
Massive drones
The Italian composer and producer Sofia Hultquist has been busy since getting her degree from Berklee College of Music.
Through her solo project Drum & Lace, she has made a name for herself in the fashion world. As a sound designer with a flair for trip-hop, she creates beautiful soundscapes that fill up runway shows.
The Dystopian Bass pack is clearly a great addition to the experimental musician's library. Her demo sounds gritty and industrial from the get-go. But it's the drones coming out of SUBSTANCE that gradually pull the listener in.
Lucky for us, Hultquist walks us through her process in this video filmed at her studio.
She starts out with the Voltage Swells preset, but manipulates it with EQ and automation. Then, the Spinning Angels preset becomes the blanket underneath her glitchy percussion elements. Finally, the Hornet Hives preset comes into play. By changing up the FX and attack times of a couple of layers, Hultquist fits the massive bassline perfectly into her composition.
A delicious fit for lo-fi drums
Brooklyn-based beatmaker Thomas Piper lives to inspire! When he's not making music, he's out there telling people about how he makes music.
We might be a little biased here, but this video he made for his BeatDesign series is our favorite. With a delicious bassline coming alive with the Dystopian Bass sounds from SUBSTANCE, how can it not be?
Piper usually powers Ableton Live with a Push 2 and this production is no different.
The beat starts out with lo-fi hip hop drums. Then, Piper plays the bass line on Push 2 and takes it an octave lower. The jazzy keys he adds on top complement the beat perfectly.
Deep low end, rich harmonics
Getting a bassline to sound right is no easy task. Oftentimes, it takes several layers and lots of processing.
But what if you could handle all that within a single bass engine?
This is what sets SUBSTANCE apart. You can combine up to three layers, and edit and manipulate them individually or all together. The cleverly organized categories will help you find your starting point a lot faster.
No more spending hours trying to get that deep low end and rich harmonics that cut through laptop speakers!