Output Artist Additions: Base Bass in Substance
Producers Daktyl, Ross Lara, Bill Brown, Mike Gao, Ryan Hemsworth, and Nadus make some magical music with the Base Bass expansion pack for Output's SUBSTANCE.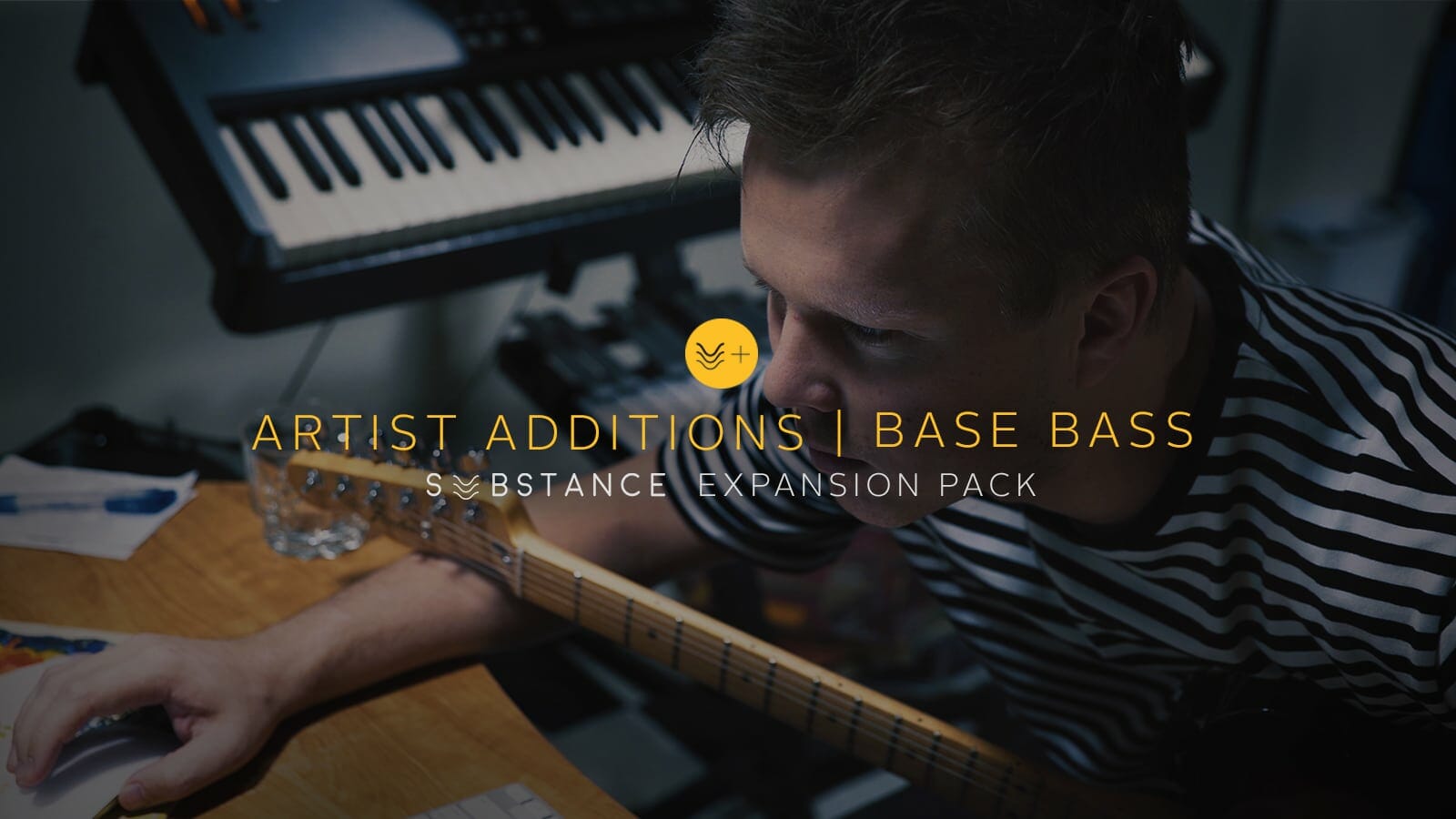 Have you checked out The Base Bass expansion pack for SUBSTANCE? It's loaded with heaps of gritty electric bass samples and rich pluck synth patches.
But don't just take our word for it. Hear how Output artists around the world make jaw-dropping beats with this boundless bass engine.
Daktyl
The UK-born multi-instrumentalist Daktyl has toured with the likes of ODESZA and Bonobo. But his home studio is his happy place.
Jumping from one synth to another, he can put together a solid tune in a matter of minutes.
"The way I like to work on tracks typically is just build a load of layers and then kind of slowly dissect them and take certain things out until I kind of get the sound I want," he says.
In this case, Daktyl begins working on a new idea with The Base Bass Expansion Pack. With Reason's granular FX, the bassline transforms into an extraordinary synth pad. A reversed guitar sample running through tape delay takes the sonic experience to the next level.
But Daktyl doesn't stop there. Next, he takes the microphone plugged into TC Helicon Voicelive Touch 2 to lay down atmospheric vocals.
"I just added a filter to everything, basically high-cutting all of the vocals. It gives it that washed-out distant feel. I'll probably mess around with the filter parameters so that filter kind of slowly opens up," he explains.
After experimenting with vocal layers, he turns to his acoustic piano, Organelle, and a Korg MS 20 for additional elements. Finally, he introduces drums and percussion to his composition.
Upon adding the kicks, he concludes, "I'm just going to add this nice little SUBSTANCE patch that I've been playing around with. I like this one because it has a lot of portamento on it. The notes kind of slide between [each other]. I'm going to mess around with some of the tone on it and a bit of the distortion as well."
The result is a lush and groovy beat that engages the listener at first listen.
Ross Lara
Producer and co-founder of Archipelago Entertainment, Ross Lara, is also a fan of The Base Bass expansion pack.
At his studio in Colorado, he browses through the new additions in SUBSTANCE. He starts with creating a strong basis for his track with sub-heavy bass lines. Then, he experiments with a guitar-style bass. Impressed by the quality of sound, Lara states, "Hardly any work of mixing these tones in the bass material — it already sounds so good in the mix."
Soon thereafter, he moves on to rhythmic and drone bass layers with FX like reverb and chorus to enrich the soundscape. He even finds a synth lead in SUBSTANCE, which is a nice surprise.
"All the new sounds in this expansion pack are super stellar," Lara concludes and joyfully adds, "You guys are making fantastic tools that are just becoming central to my workflow."
Bill Brown
A composer for film, TV, and video games, Bill Brown is best known for providing the score for the hit CBS series CSI: NY.
Brown has a natural talent for building suspenseful compositions. But we have to admit, even we didn't expect him to put together a stunning piece exclusively using sounds from SUBSTANCE!
This snippet puts the true power of the engine on full display.
Mike Gao
Music technologist Mike Gao loved The Base Bass expansion pack so much that he gave Output a shoutout on Instagram.
In the video, Gao puts together a string of chords with his self-invented iPad app Polyplayground.
With the addition of ground-shaking bass sounds from SUBSTANCE, a genre-defying track emerges.
Ryan Hemsworth
Canadian musician Ryan Hemsworth recently revealed that his morning routine includes SUBSTANCE!
Apparently, the acclaimed producer starts a typical day by feeding his cat. Then, he takes a sip from his first cup of coffee and makes hard-hitting beats in Logic Pro X.
With SUBSTANCE, Hemsworth's basslines cut through even the cheapest speakers.
Nadus
Newark-based DJ Nadus likes to share teasers of his work from time to time.
When he's on the road, all he needs is a laptop packed with cutting-edge Kontakt instruments. The star of the following video? The Base Bass sounds from SUBSTANCE.
A multi-faceted instrument, SUBSTANCE can combine up to three sound sources at a time. With its rhythm, FX, and edit modules, it provides control, flexibility, and precision that's unmatched.
The Base Bass expansion pack fortifies the engine you love with patches that give an inspiring starting point to any production.
If you're new to SUBSTANCE, check out more about how it works in this lo-fi hip-hop tutorial!