New in Arcade 2.2: Arpeggiator, ARPS Line, and New Sounds to Explore
Introducing Arpeggiator: A powerful new multi-layered performance and arrangement feature in Arcade, now available in update 2.2.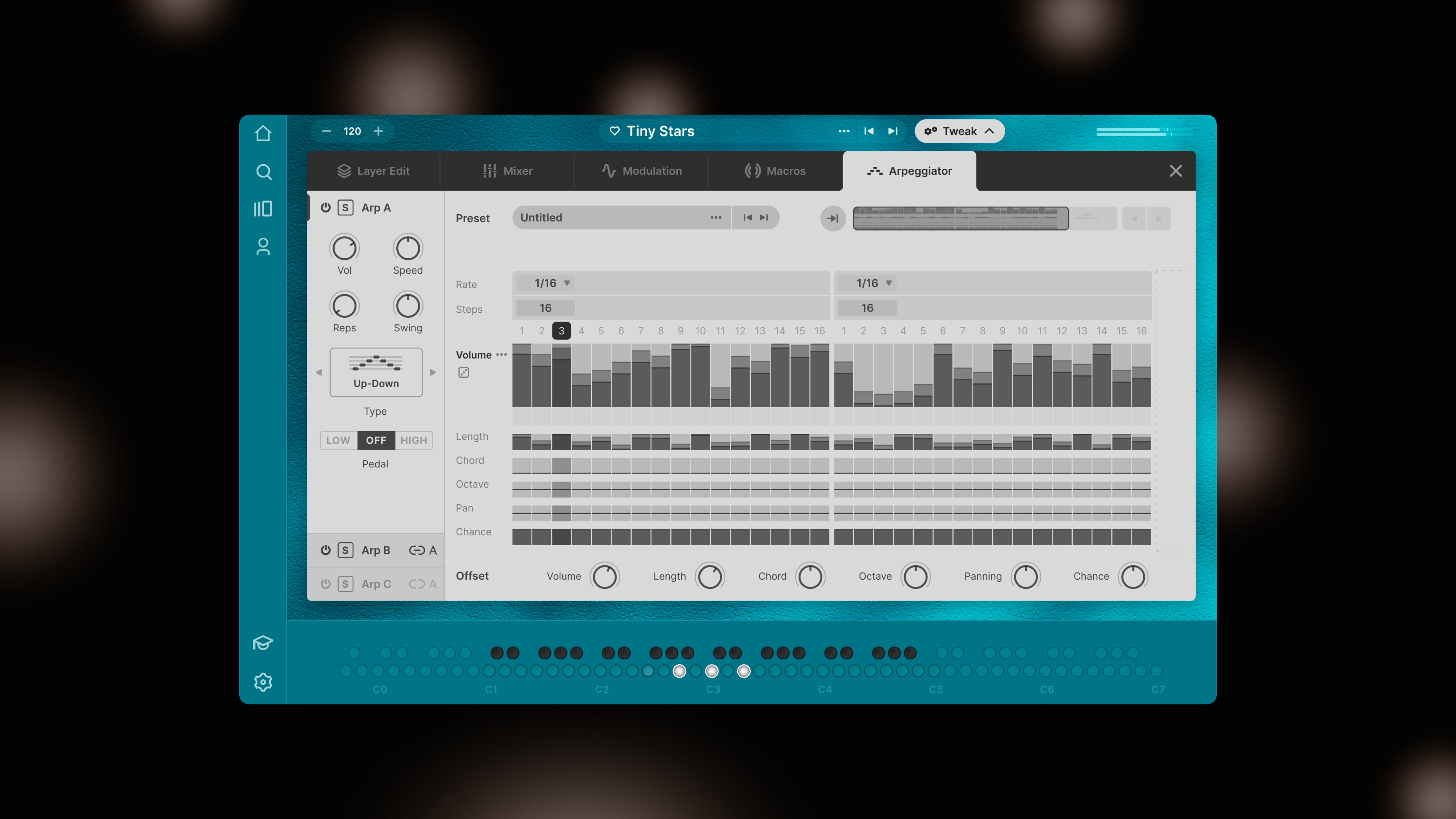 Spring is here and Output is excited to introduce the latest game-changing feature for Arcade: the Arpeggiator. A multi-layered, multi-step sequencer that can turn one regular block chord into a dynamic arrangement, the Arpeggiator is available now in the Arcade 2.2 update.
As if that wasn't enough, we also debuted a new Line devoted to arpeggiation called ARPS. It explodes with exciting sequences in a range of instruments, from guitar plucks to flute stabs to atmospheric synths. Lastly, we have all-new Samplers and Instruments for Memento, Overture, Pop Underground, Jukebox Vocals, and Honey. Check out some of them below. Or, dive into Arcade and play around with them for yourself!
To experience all that Arcade has to offer, make sure you're fully updated! Current Arcade subscribers can download the 2.2 update for their OS via the Downloads tab of their Output account. Not a subscriber yet? Make an Output account and download Arcade today — new users get a free trial. Download it now to tap into the magic for yourself!
New Feature: Arcade Arpeggiator
To access the Arpeggiator, click on the Tweak button while in an Instruments Play Page, and then navigate to the Arpeggiator tab.
There are three separate Arps, one for each layer in the Instruments. (Every Instruments supports up to three layers.) Each of these Arps can play changing rhythms at different speeds, with various note lengths, volume, octave, and panning on a per step basis.
Each step also features a Chance parameter that introduces organic rhythmic changes by varying the probability values for note triggers and chord triggers. Feeling uninspired? Hit the dice icons at the top right corner of each sequence card to either randomize your selected parameter, or every parameter in the sequence all at once!
How does an arpeggiator work? Read our guide to arp basics and how to use an arpeggiator in your music.
To globally control the Arpeggiator parameters all at once, you can use the Offset knobs at the bottom of the interface. There's also a Speed control to double or halve the speed of the entire Arpeggiator layer with ease.
You can set the step count and Rate however you like, and you can add additional sequences with separate Rate settings. This flexibility lets you use the Arpeggiator for simple patterns or intricate arrangements!
Turn on the Arpeggiator within any Instrument in Arcade and take your creative experience to the next level. For more details on how to use the Arpeggiator in your tracks, check out our Knowledge Base article.
New Line: ARPS
Alongside Arcade's new Arpeggiator is an entirely new Line devoted to the beautiful, trickling sounds of melodic permutations. Meet ARPS, another way to experience arpeggios within Arcade.
Packed with new Samplers and Instruments to inspire your next melodic journey, explore ARPS and voyage to the outer limits of arpeggiation. A multiverse of futuristic ear candy and moving sequences for your next track awaits within.
New Samplers: Memento
These new Samplers for the Memento Line are all about slowing down and thinking deeper. Inside, find ambient guitars, rolling harps, spacious drums, and so much more. No matter if you make lo-fi, drum and bass, or wistful pop, these dreamy sounds are an audio hug that will make any track sound warmer.