How To Make a Track in 6 Minutes Using Arcade
ARCADE lets musicians of all skill levels focus on creativity — check out how it can quickly turn a chord progression into a full track.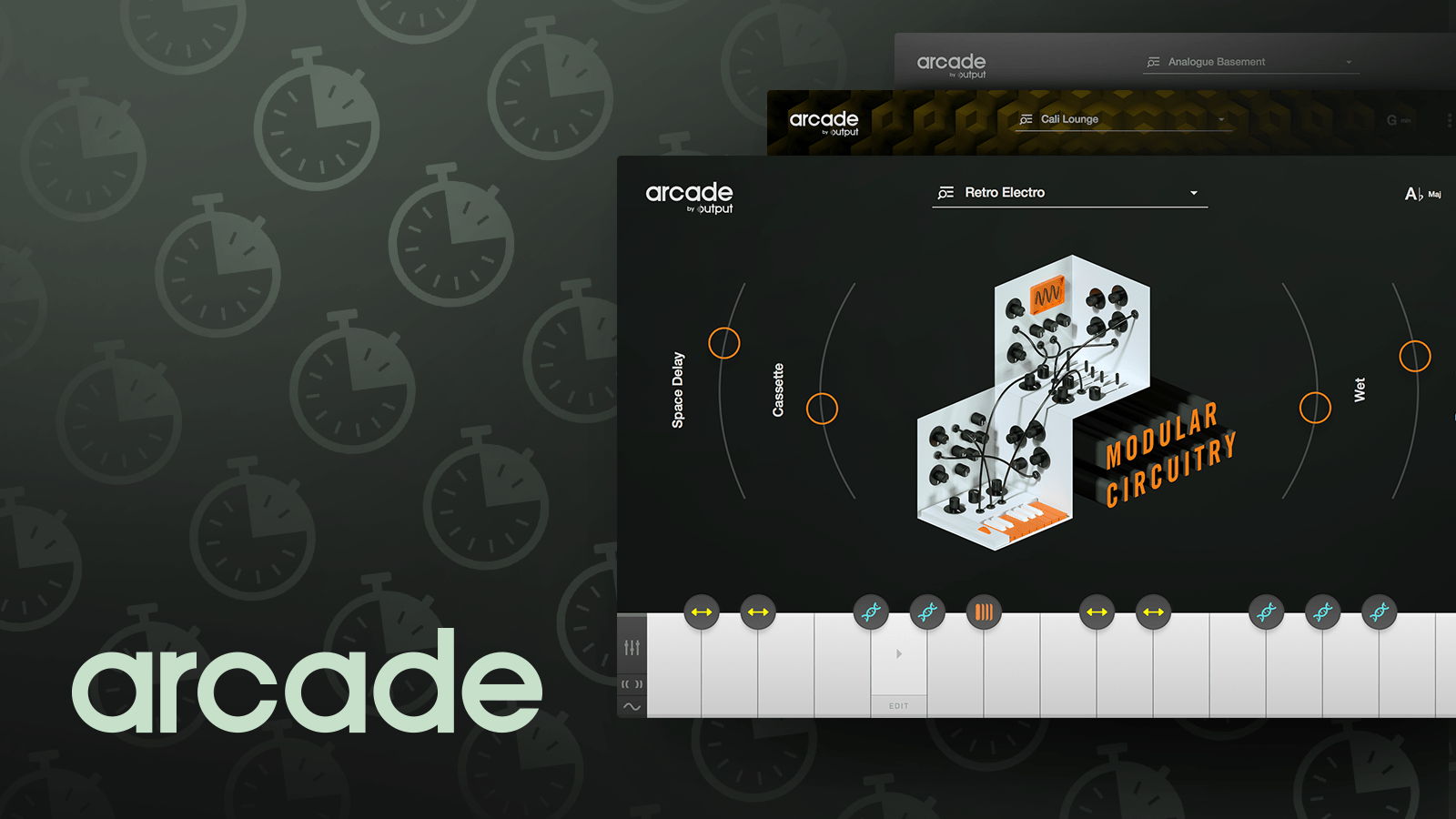 It's cathartic to heave all of your emotions into one dope tune. However, the minutia of the technical process can rip you out of the zone. Sometimes progress feels impossible when you're stuck fiddling with the smallest aspect of one element.
Arcade is designed to let musicians of all skill levels focus on their creativity — it lets you dive into the sounds without worrying about some of the more fussy aspects of music production. Let's check out how Output's Will Proulx combines different samples, Analog Brass & Winds, and Arcade to quickly turn a chord progression into a full track.
Layering, layering, layering
Proulx starts with a fairly simple chord progression he made in Analog Brass & Winds. His goal is to work as quickly as possible to build a track around it using Arcade.
Within Arcade, Proulx turns to the Modular Circuitry Line for a bass. You can probably guess that this Line has lots of bleeps, bloops, and fat drones. Each of the 40+ sound Lines in Arcade is tailored to a specific vibe and audio aesthetic. Once you get familiar with each, you can quickly find exactly what you need.
He plays with the Arcade bank of macros to make easy adjustments and then records the bassline.
Then, Proulx heads to another Line called Patterns for its raw guitar elements. He auditions different sounds by pressing on Arcade's white keys to trigger samples, then uses the black keys to trigger modulations for those samples. This makes it easy to slice, dice, and warp your samples on the fly.
Each of Arcade's three modulators (Playhead, Repeater, and Resequence) can be changed when you hover its corresponding black key and click "edit." The Playhead modulator is especially fun and lets you reset the start point of the sample and increase the speed with just a few clicks.
The Resequence modulator is also great for flipping sounds fast. This function lets you slice your sample into smaller pieces and rearrange their order. It's a technique that hip-hop and dance music producers will know well. Daft Punk famously used it in "One More Time." With Arcade, this time-consuming process becomes much faster and more streamlined. 
The final step is to throw in some vocals. Proulx uses something he recorded earlier in another Output plugin, EXHALE. Arcade doesn't limit you to the Loops and Samplers made by Output. You can load your own samples, build your own Samplers, and chop and screw them to your heart's content.
Once these touches are added, Proulx plays the complete sketch. It's a dreamy, alt-pop loop that is a perfect base to build a full song. And, it was done from start to finish in about six minutes!
Arcade tricks for faster tracks
When you load up an instance of Arcade, lock in your key signature by clicking on the Session Key dropdown in the upper right. Now everything you play will match the existing elements of the song! If you want to lock things in further, turn on "input quantize" to make sure drum samples always play on the downbeat. It may not always be necessary, but it does help you stay in time.
To make your own user samples play nice with Arcade, enter their original key and tempo in the advanced panel. Use the edit button at the bottom of a white key to open the advanced edit menu.
Once your sound is locked in, it's easy to make adjustments to make it sit better in the mix. Arcade has all the FX you normally add in your chain, all on board. Click on the cute little mixer icon on the left side of the keyboard to pull up your filter, phaser, multi-tap delay, and compressor.
There are so many options to get weird with Arcade! For more, check out our full guide of Arcade tips and tricks.