Arcade Kit Challenge: Promnite vs. Hoodboi on The Crate
Watch both artists flip the Della Vespro Kit in ARCADE's line The Crate into wildly different results.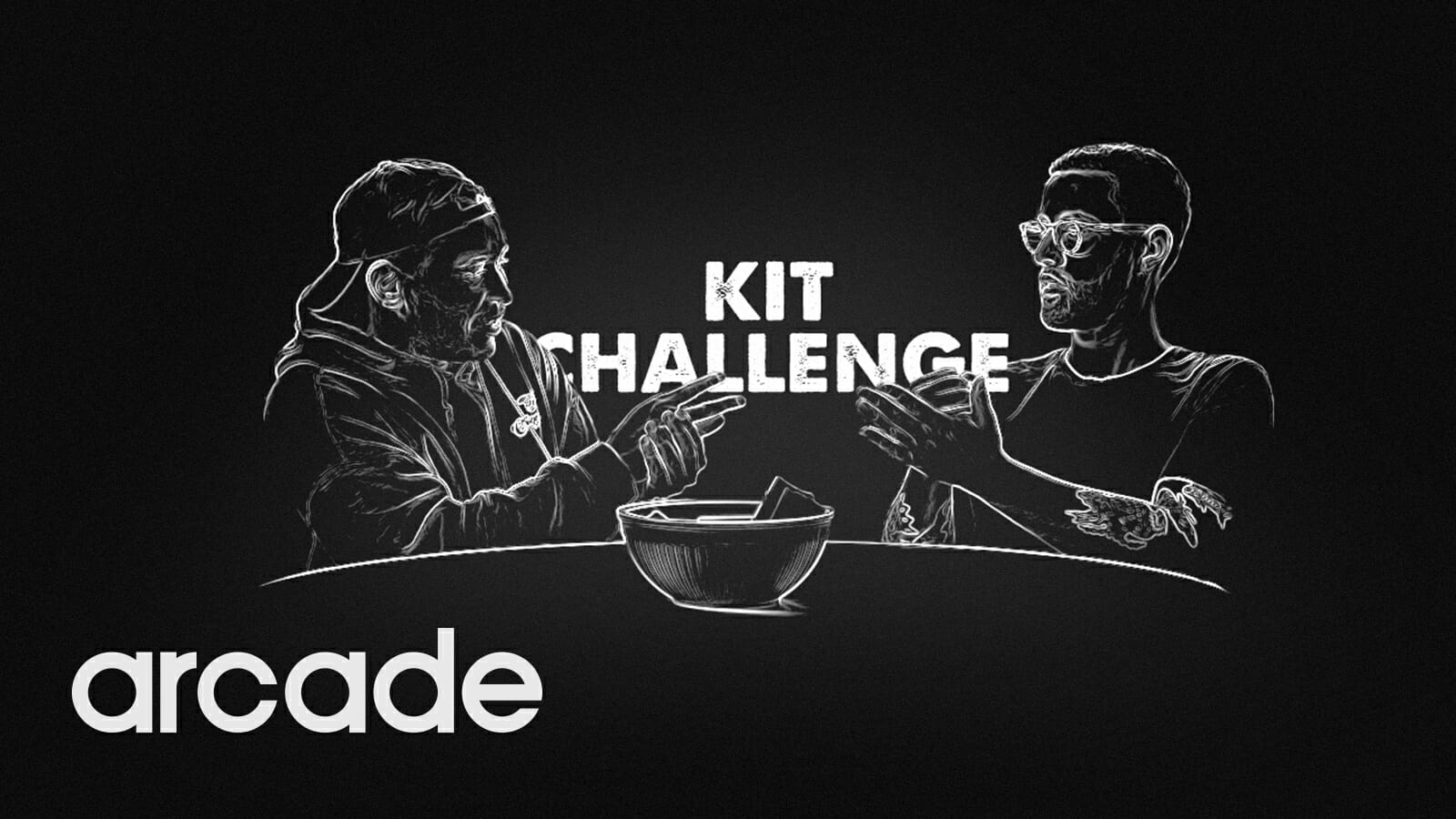 Hoodboi and Promnite are two of the most exciting young names in dance music. Between the two, these Los Angeles producers have released trap and bass-inspired music on Fool's Gold Records, Anjunadeep, Mad Decent, and other respected labels. They're also founding members of the producer collectives Team Supreme and Athletixx.
The wealth of shared knowledge and experience between these two friends makes them perfect candidates for the ARCADE Kit Challenge, where we ask producers to make something new on the spot using random samples from ARCADE. Joining us from Hoodboi's home in Echo Park, Los Angeles, both artists flipped the Della Vespro Kit in ARCADE's line The Crate to wildly different results.
Play the hits
Within seconds of checking out the operatic vocal stabs in the Della Vespro kit, Hoodboi is able to tap out a melody line that becomes the harmonic starting point for the rest of his production. ARCADE lets him get right into creating, without having to worry about assigning the samples to different parts of his MIDI keyboard.
After he transposes the melody to a key of his liking — in this case, G# — he writes a bassline and new chords by clicking and dragging notes in the piano roll. "I'm not a keyboard player by any means," he readily admits. "When you have everything at G sharp, you can pretty much just run along the black keys."
A secret sequencer under the hood
Once Hoodboi lays down a tasty drum pattern, he decides to go back to ARCADE for some sounds, this time using the built-in step sequencer feature of ARCADE's Repeater to sculpt a new groove. You can select different points in the vocal sample to loop and twist into new rhythmic patterns, all without leaving the plugin.
"A cool feature I like in ARCADE is that you can grab these loops and hold it with the black key and create a step sequence," he says as he demonstrates. "This just automatically comes up with cool ideas."
Get weird
Then, it's Promnite's turn. "It's orchestral!" Promnite says with a laugh after clicking through the Della Vespro samples for the first time. One could easily "make a Godfather-type beat," as he puts it — but instead, he chooses to look for something more unique, making the library work for him and his style instead of adapting himself to the world of the samples.
"I try not to use sounds that are straightforward. I try and make them unique in some way," he says as he pulls up a custom Ableton Live audio effect chain that he's lovingly dubbed "Promfx." The coarse reverb of his FX rack transforms the staccato opera sample pattern into something closer to a mangled, FM synth lead.
It's not the sound, it's what you do with it
With the challenge complete, Hoodboi and Promnite return to Hoodboi's dining room table to play the results. The two beats highlight the different ways that ARCADE can be used — as a sonic mood board, a sound design tool, and even a step sequencer.
"I feel like typically with any loop or any type of sound I have, I try and make it my own in some way," Promnite says. "I found two notes that I really liked that had good texture. I used the Radio dial and cranked the hell out of it. Then I used normal sound design stuff, like frequency shift or grain delays and whatnot, and made it its own thing."
As these two remind us, a sound is only as good as what you do with it. It isn't inartistic to use loops or libraries, so long as the result aligns with what you actually want to achieve.
"I feel like the typical producer, when they hear a loop, they're like, 'Oh, I don't want to use it because it's a loop,'" says Promnite. "If you make the loop your own, you can put it into a good place."
For more challenges, watch the Cobra Kai composers go head to head. And, Check out more chats with dance music artists, like our interview with Canada's Demuir.