Arcade Kit Challenge: Hotae Alexander Jang vs. Tangelene Bolton
Production power couple Hotae Alexander Jang and Tangelene Bolton face off in our latest sample battle: Arcade Kit Challenge.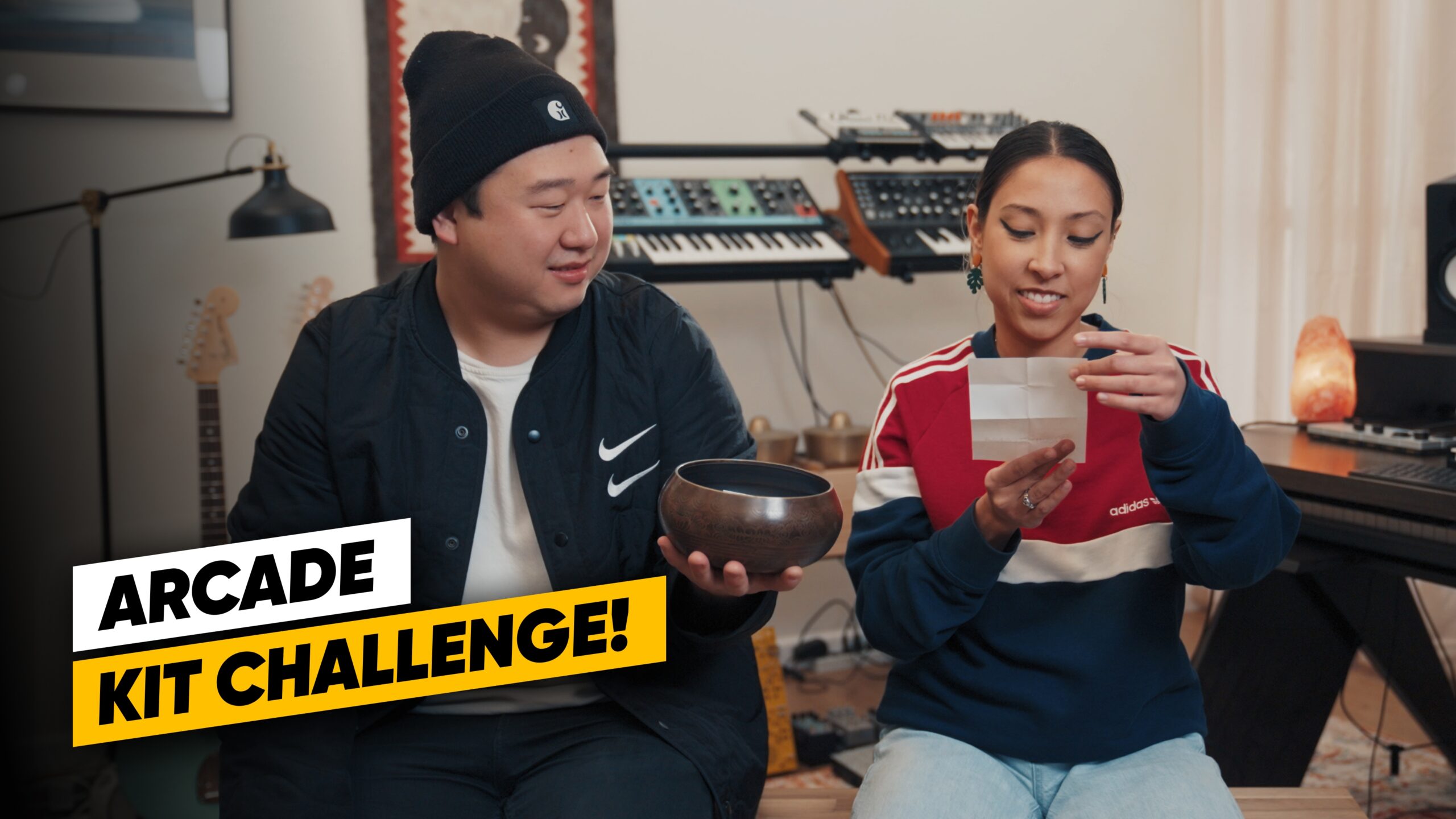 He's a Grammy-winning producer/engineer who's worked on records by John Legend, Esperanza Spalding, and other greats. She's a film composer who's scored numerous projects for Disney and came up under the legendary Hans Zimmer. Together, Hotae Alexander Jang and Tangelene (Tangee) Bolton join Output for the return of the Arcade Kit Challenge: the video series where two contestants each get 30 minutes to make a track using the same Arcade Kit.
Stepping into Alex and Tangee's Los Angeles home, the first thing you notice is that the residence is bursting with synthesizers, guitars, and gear. They have two home studio setups — his is downstairs, and hers is the one upstairs, with the Output Platform desk, where we're filming today.
"We've been together for about 11 years," Alex explains. "There are days when we're battling each other, in terms of speakers, because it's just a low-end war — which is fun, sometimes."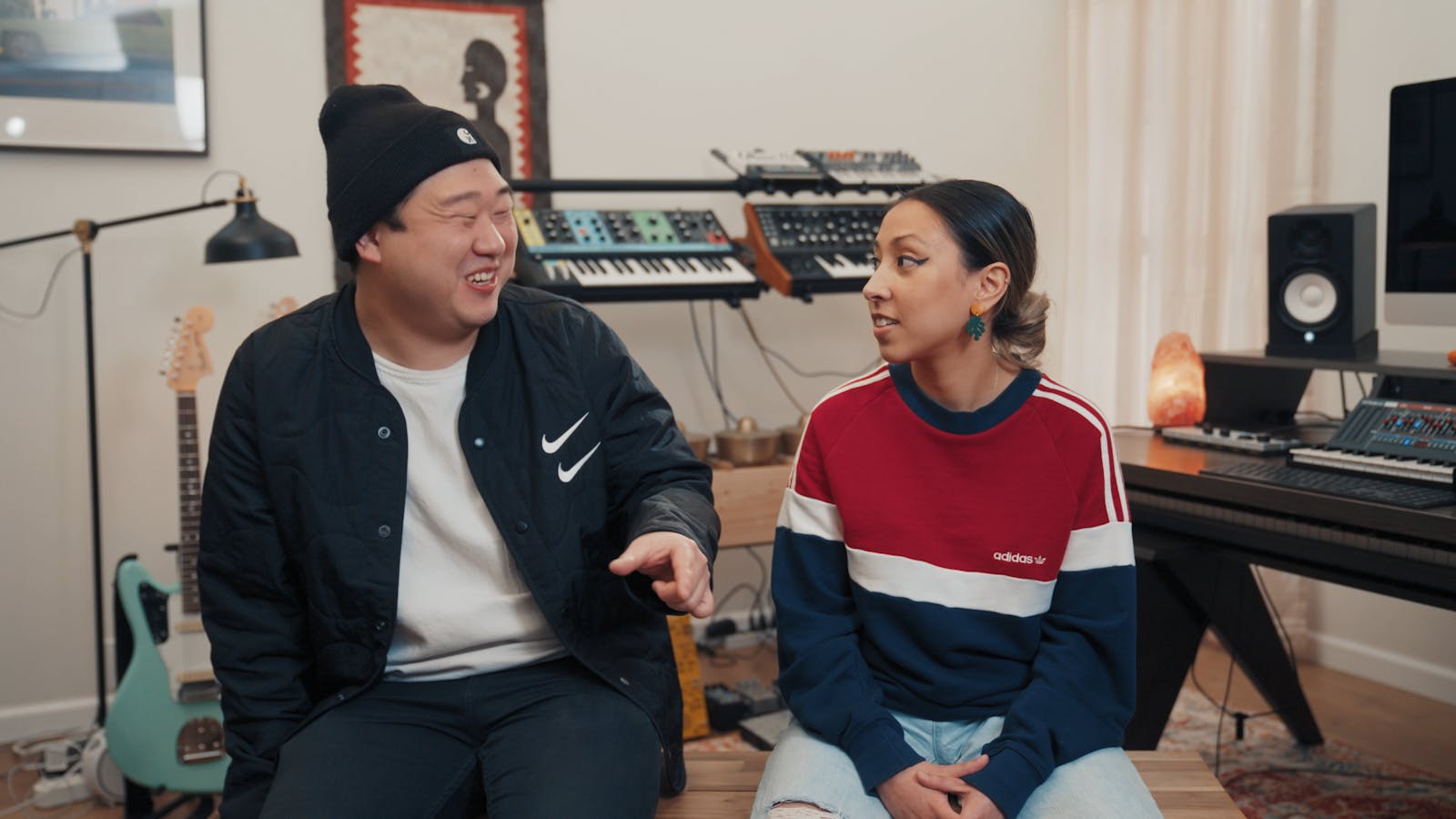 There are three rules for the Arcade Kit Challenge: Each contestant gets 30 minutes to finish a track, a randomly selected Arcade Kit must be used in the track, and neither contestant is allowed to listen to the other person's work as it's being made. Tangee fishes around in a bowl to select the Kit they'll use. She picks "Downstream," from the R&B-centric Arcade Line called Honey.
Together, we're going to break down Alex and Tangee's 30-minute production workflows, take a look at the other gear they used, and dig into how Arcade's Sampler Kits, Note Kits, FX Macros, and Key Change functions can be used creatively in the writing process — including in ways we've never seen before over at Output HQ! Let's dive right in.
Tangee's Moody Ambient Jam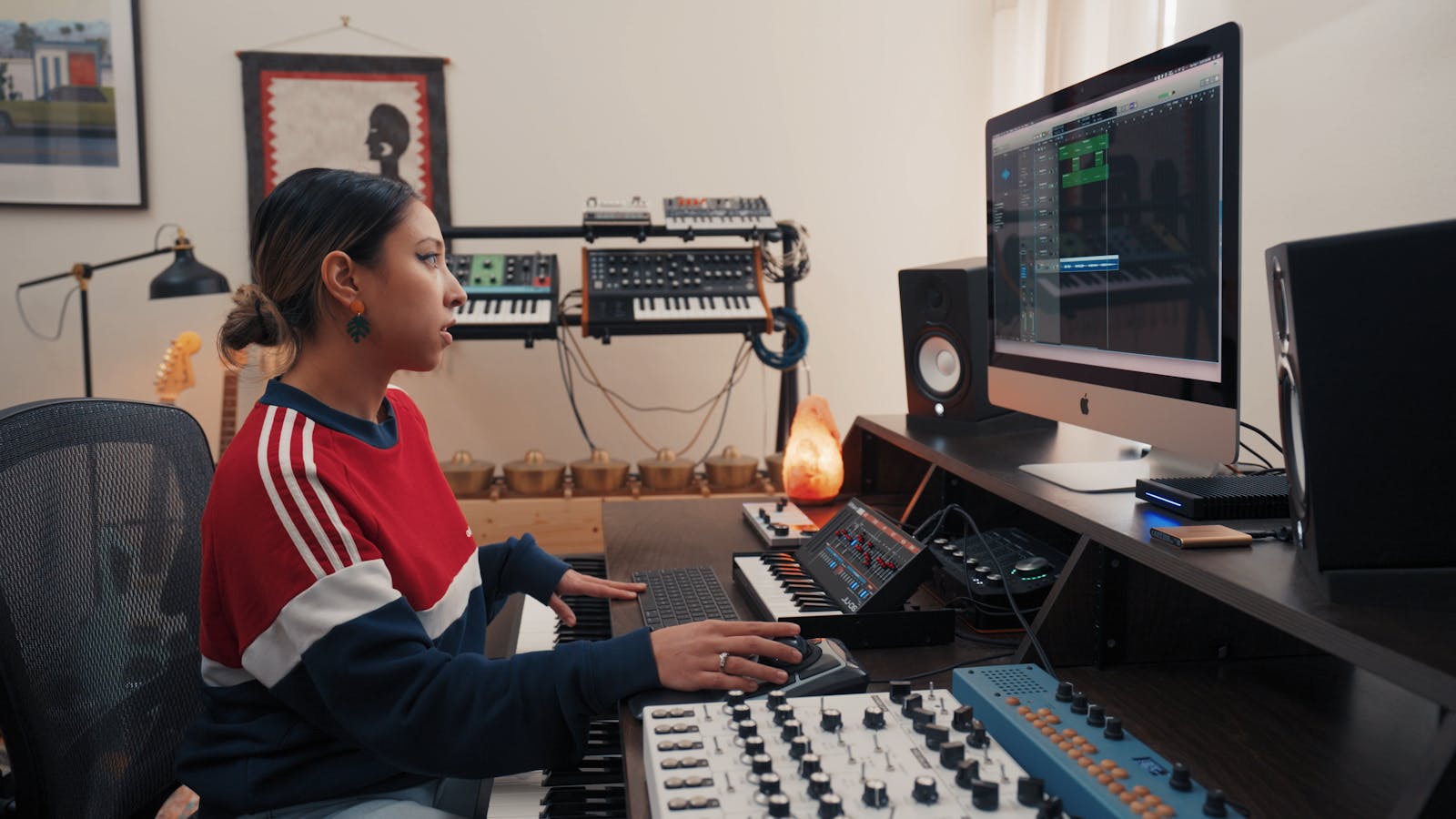 "Let's take a listen to these sounds."
Tangee starts her Kit Challenge run by playing through the different loops in "Downstream" with her MIDI keyboard. "Downstream" is a Sampler Kit that's pre-loaded with drums, synths, and guitars. Tangee plays the loops with the white keys using her right hand while using Arcade's Playable Pitch function to change the pitch of the loops in real time using her left hand.
She settles on a staccato electric guitar line that sounds like a plucky synth when played an octave up. Tangee starts turning up each of the Kit's four built-in Macro FX sliders to hear how it affects the guitar. Her favorite is "Evaporate," which combines parameters for reverb and filter resonance in one control, giving the loop a "spacier" sound. As she adds more elements from the Kit, all of the sounds feed into the effect.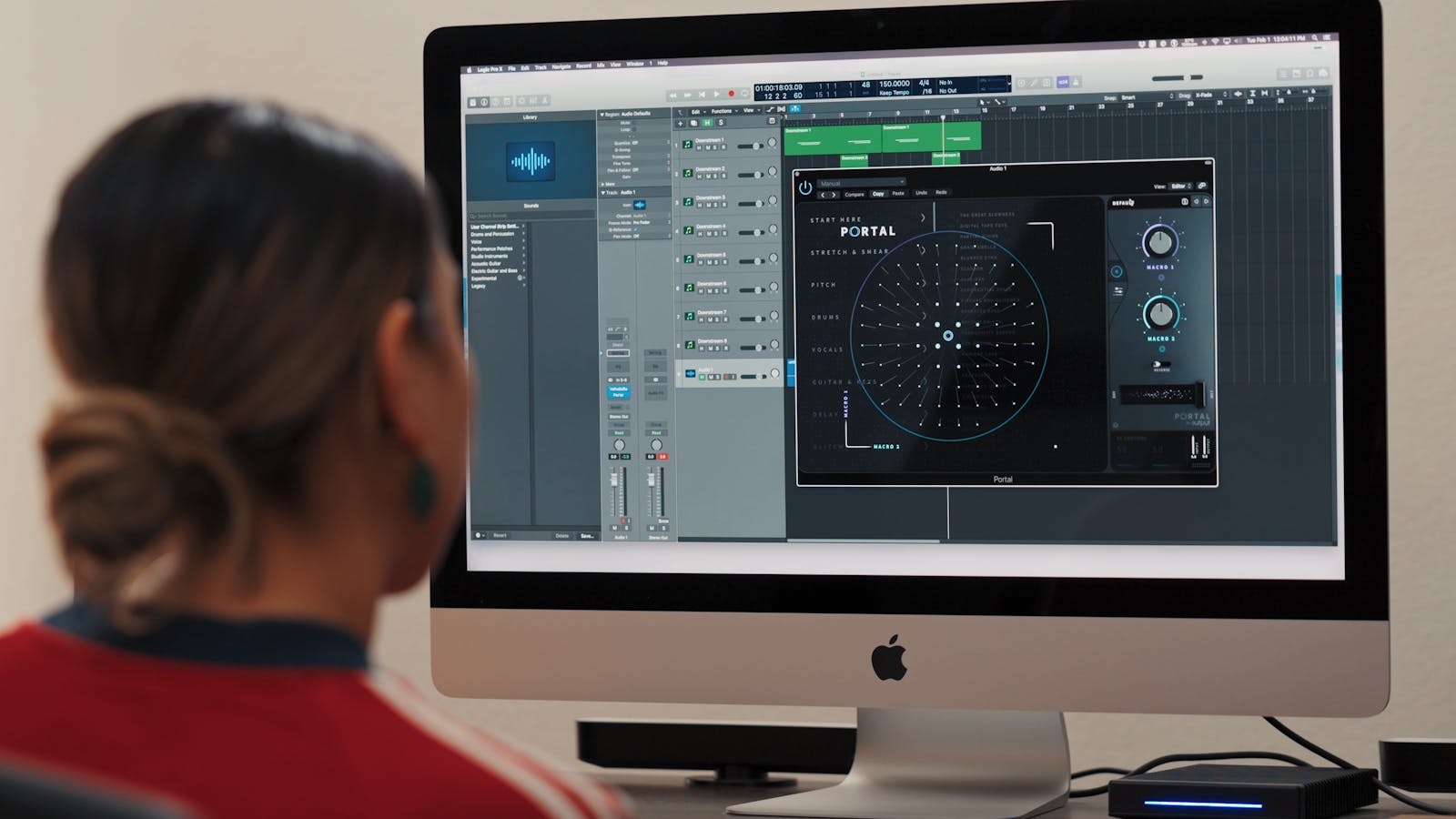 "I want to add something on my little Juno module here," Tangee says, running her fingers across the compact synthesizer on her desk: the Roland JU-06A Boutique Series model. Back in the DAW, she uses Logic Pro's built-in compressor to sidechain the Juno pad to her kick — "so that it kind of has a pulse to it, so that you kind of get lost" — and then throws in Portal, Output's powerful granular FX engine, "to make it even more washy and weird."
The final step: Another instance of Arcade. Tangee selects a plucky Note Kit from Patterns — "Static Waves" — and immediately lays down some melody flourishes before doubling them with her Critter & Guitari Organelle. The result is an emotional, introspective ambient jam — perfect for, as Tangelene puts it, "maybe something you listen to late-night, in the car, when it's raining."
Alex's Inventive Lo-Fi Banger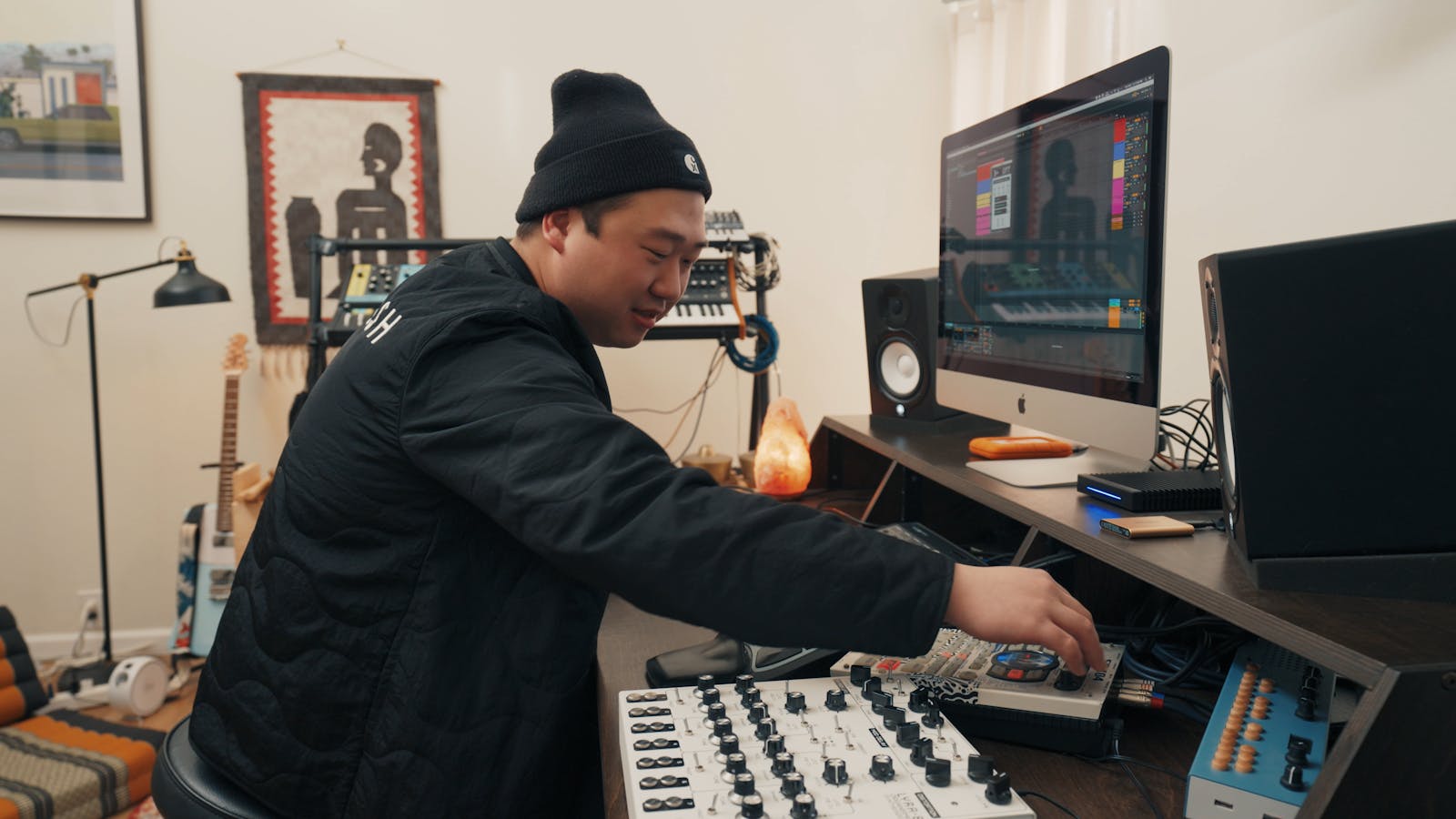 The first thing Alex does for his Kit Challenge is press and hold down six of the white keys on his MIDI keyboard all at once. In Arcade, each Kit comes stocked with a full-fledged chord progression and arrangement. You can let the loops play as they are, or manipulate them to your heart's content. The producer smiles as he listens back to the stock progression: "That's kind of slick."
Alex discovers the handy Playable Pitch mode that Tangelene used, and then he tries changing the default key of the entire Kit as he plays a loop. Suddenly, inspiration strikes: He hears how clicking on a new key changes the pitch of the loop with a musical amount of portamento, or glide. "That's actually kind of crazy," he says.
He tries it an octave up. All of a sudden, the guitar loop he's been auditioning takes on a whole new quality thanks to Arcade's pitch-shifting algorithm: It sounds crystalline and glassy. You can practically see the gears turning in Alex's head: "Oh shit… Okay, we're going to print this."
The original loop is in a 6/8 time signature, but with a little bit of editing, Alex flips it into a 4/4-friendly progression. Before we know it, he's laying down some drums, 808 bass, and electric guitar, filling out the rest of the progression.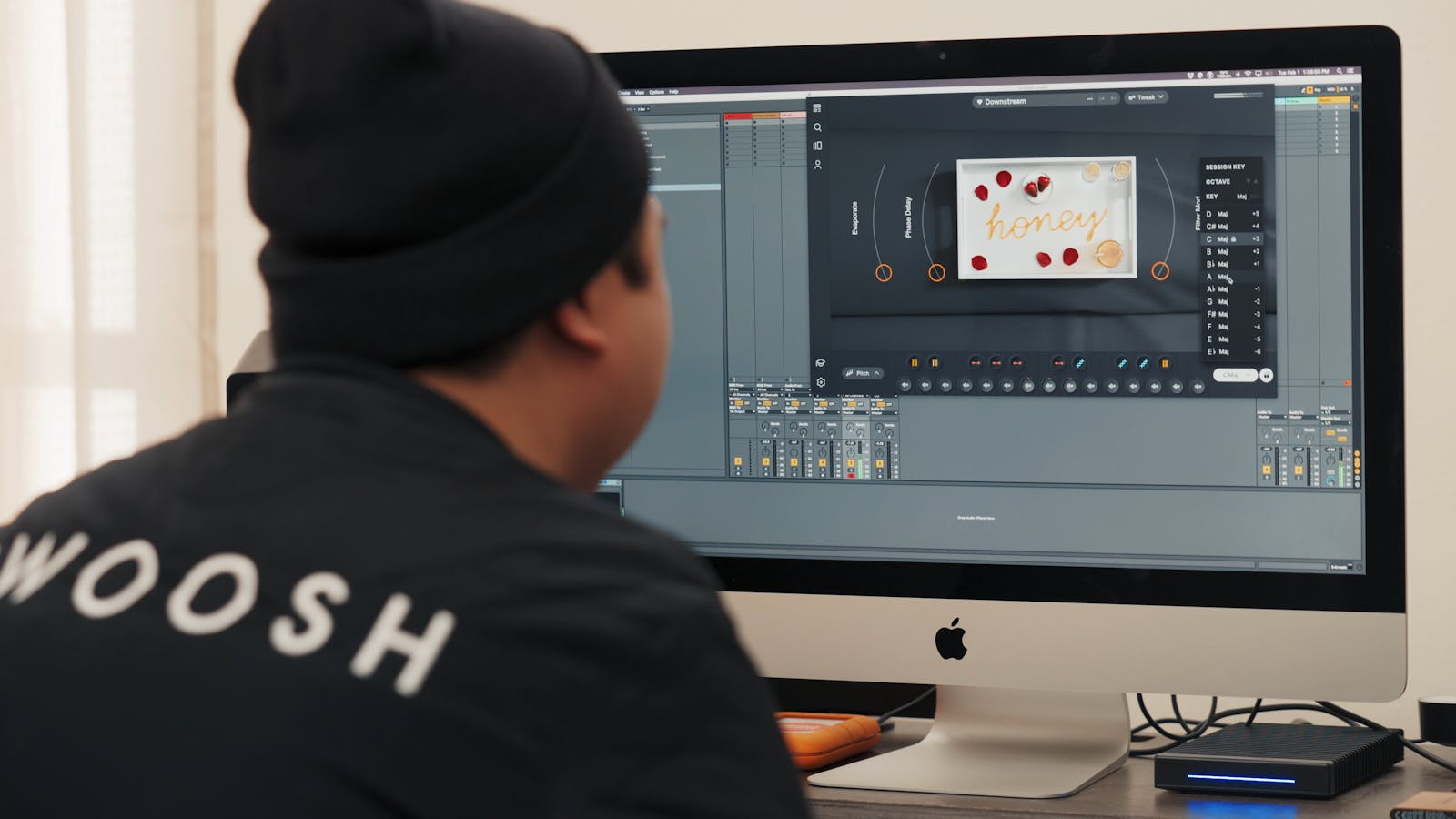 The 30-minute mark approaches. "Let's mess it up even more," Alex says. "My trusty [Roland] SP-404. I've had it since forever; it's been through everything. I've dropped it a million times and it's still alive."
He then runs his new beat through Xfer Records OTT — a popular freeware multi-band compressor — before sending it into the SP-404 for even more compression. The compression works like glue, pulling the entire arrangement together. The final result, built with Arcade, sounds like magic.