Atrium: An Artist Retreat with Hundred Waters and Arcade
We dropped in on Atrium Creative Retreats to see how Trayer Tryon from Hundred Waters is inspired by ARCADE and a change of scenery.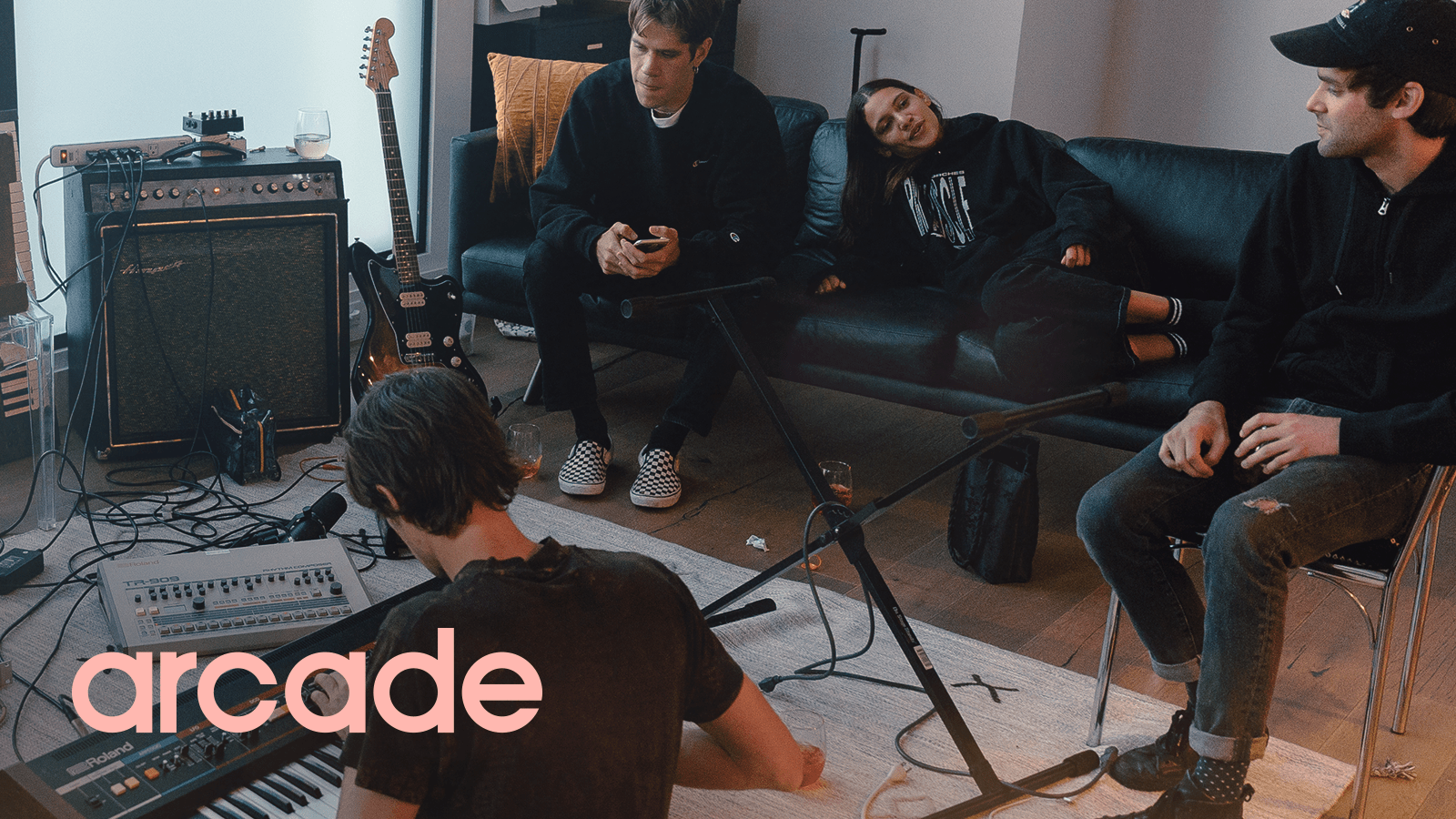 Retreats have been around for decades in the music industry. Sometimes songwriters and producers get together to make magic in a cabin in the woods. Other times it's a summer house by the beach that fuels musicians' creativity.
The idea is that a change of scenery and a chance to socialize with other creators may lead to happy surprises. The best music tends to come out when its maker is having fun. So why not give them the perfect setting to do so?
A safe space and a new community for artists in Atrium
Atrium Creative Retreats takes this idea a step further by bringing mental health and wellness into the mix. "Atrium is an artists' retreat where artists can go… a safe space for a week, internationally, with other artists that they may know or may not know," states co-founder Chrissy Stuart.
After working for over 10 years in music licensing and publishing, Stuart discovered what hinders a songwriter's productivity. "I think a lot of times with art, there are pressures to arrive at an end goal," she suggests. Musicians who compose music for film, TV shows, ads, and video games are always required to meet tight deadlines. Sure, a time crunch can be exhilarating. But what do you do when it becomes a source of anxiety instead?
Stuart's colleague, Julia Willinger, believes that there aren't enough tools to keep musicians' stress levels in check. "We're trying to bring something to the artist community we don't see being fostered enough, as well as just bringing mental health and wellness to not only the artist community but on a larger scale," she explains. Stuart agrees: "We just try to kind of create the best combination that we can so that artists walk away with a new community… which for me is one of my favorite things about it, to see the way that everyone interacts during the week and the community that they have afterward."
Some musicians who have participated in the retreats include Porches, Okay Kaya and Trayer Tryon from Hundred Waters. In fact, Tryon had the opportunity to test out the new Particles Line for ARCADE at Atrium Creative Retreat in Los Angeles.
Arcade's appeal: trial and error
Tryon mainly produces with his band Hundred Waters, but he also makes music for himself as well as for others. He admits that he's "a lone wolf type" but doesn't deny the power of connection an artists' retreat can bring about.
During the retreat, Trayer experimented with a drum machine for the first time while working with his peers. He jams and records day after day. His goal? To go home with Ableton session folders overflowing with great material to pick and choose from.
In the midst of his demonstration, Trayer shares an experimental electronic track he made with his friend Tom Krell (aka How to Dress Well). "We worked on six different things. As soon as something felt like we were analyzing it too much, we just moved on. This probably started just as a kick and snare," recalls Trayer.
Then, he reveals his secret weapon: the extreme sound stretching software Paulstretch, designed by Paul Nasca. With this unique program, Trayer can slow any audio sample down while preserving its sonic quality and original key. After that, all there's left to do is slice up the parts that he likes and load them up on a MIDI keyboard.
"The different keys play little different snippets of it. I just randomly found something that sounded good. That's how I came up with this thing." he admits, and adds: "It's different pieces of something I Paulstretched, which is why ARCADE is appealing to me because I typically don't play the keyboard like a keyboard. I just put stuff on it and play it. I figure out things by trial and error and then make something out of that."
Sparkly and smooth
Tryon was one of the few music producers who got his hands on ARCADE before it was released. He was a fan of it then too, but he's glad to finally see it all "sparkly and smooth."
He opens it up and feels drawn to the Particles Line. It doesn't take long before he finds all kinds of granular and stuttering textures in it.
"I can hold it when I play stuff. I can kind of catch some different rhythms. I'm manipulating the beginning and the end of the Loop. That sounds great. It should be so fast and messy, but it's not," he narrates as he plays sound after sound.
ARCADE has the brains to chop the Loops up just right. It recognizes the key and tempo of the project with ease, after all. But it also comes equipped with tools that allow the producer to edit, process, and manipulate each sample. As Tryon puts it, "You can get in here and really change it up if you want."