Output Afterhours: Josh, Director of Audio R&D
Every edition of Output Afterhours gives a glimpse into the people who make our tools come to life. On deck is Josh, director of audio R&D.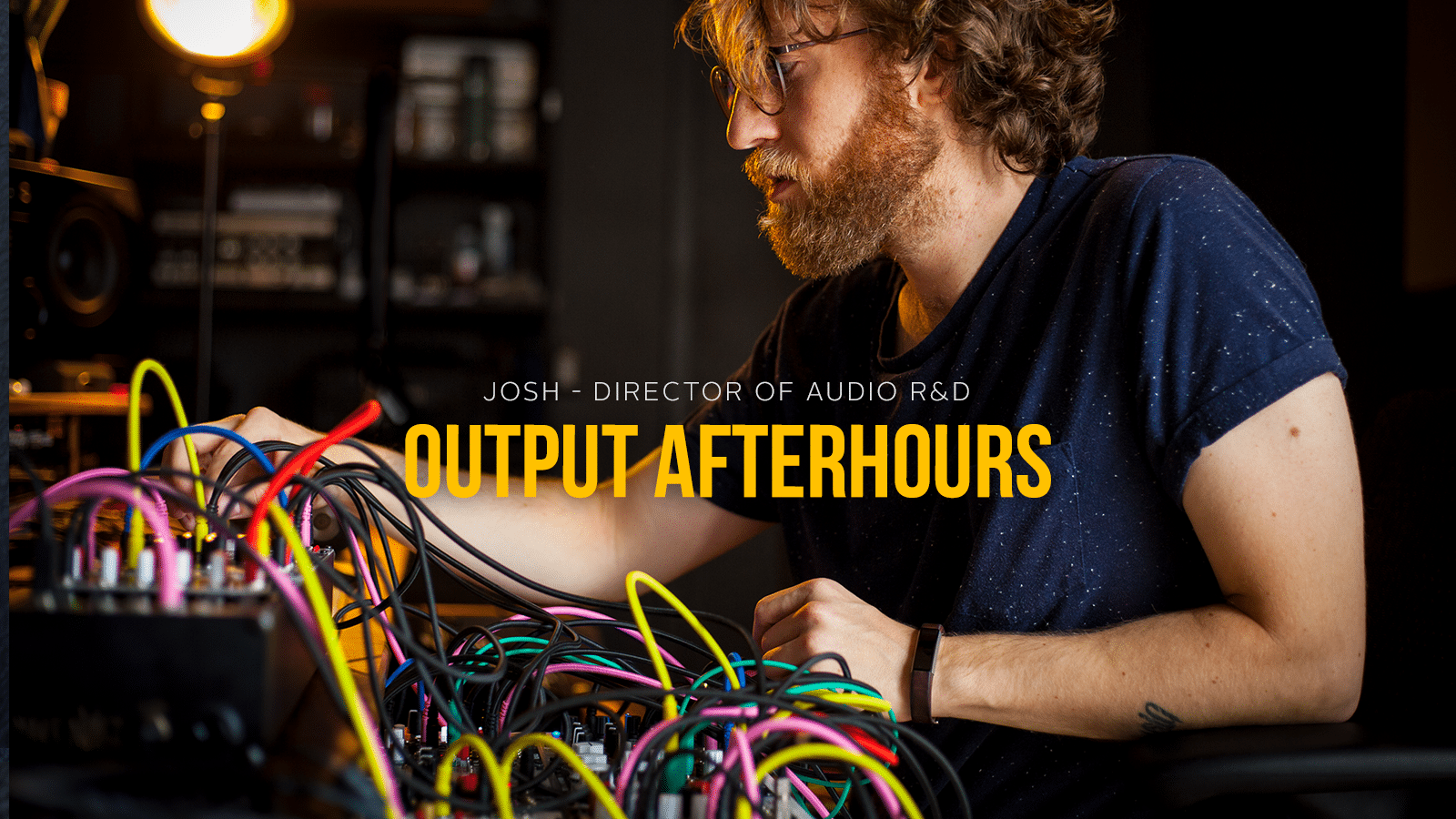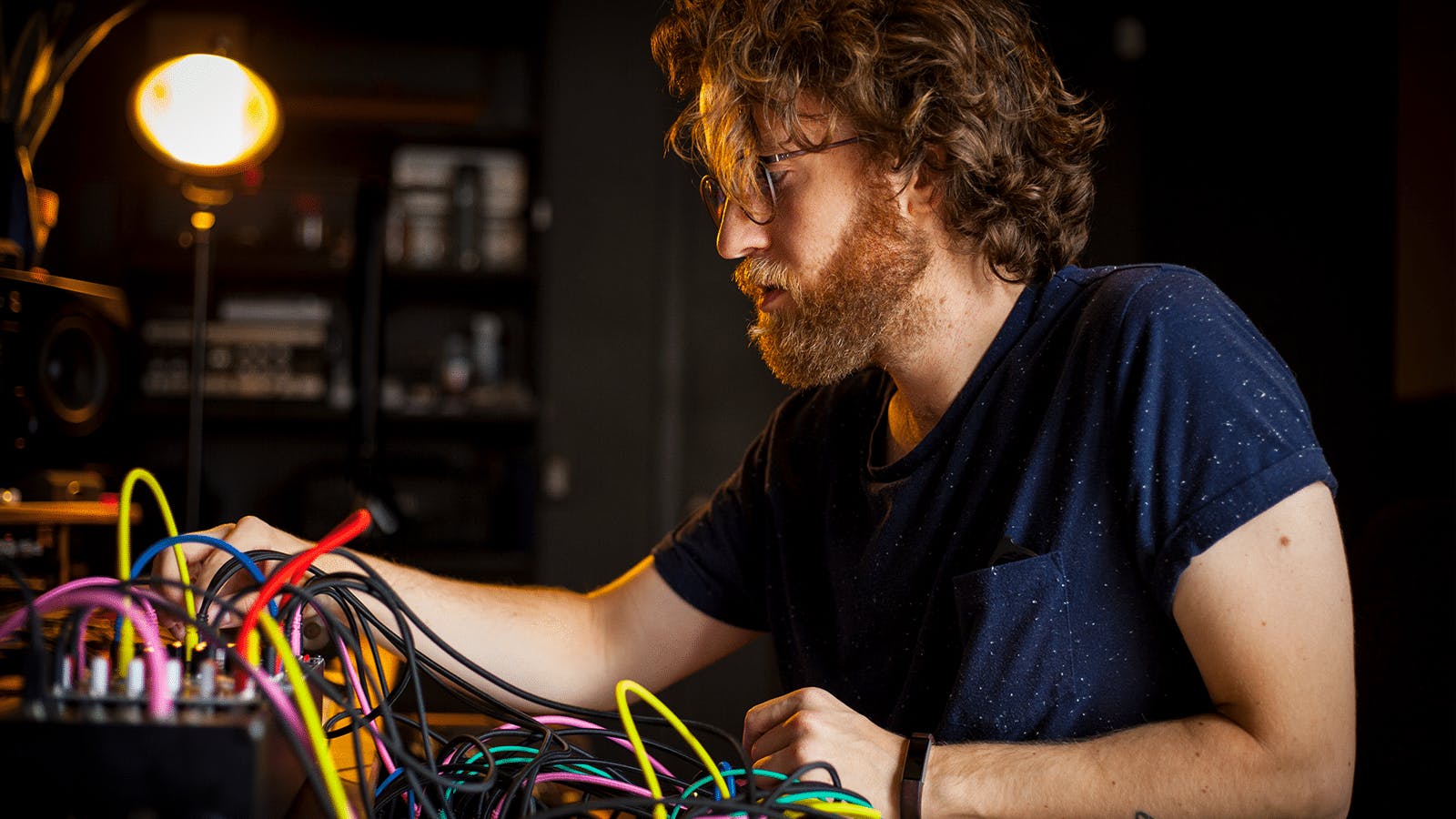 Meet our crew! Every edition of Output Afterhours gives a glimpse into the people who make our tools come to life. On deck is Josh, director of audio R&D, modular synth lover, and forager of sounds in everyday life. Get a peek behind the sounds at Output.
What do you do at Output?
I'm a part of the sound team as the director of audio R&D. I advise on how audio aspects of our software should behave, and I engineer most in-house recording sessions. A lot of what I do is creating, listening to, and recording sounds.
Every single control within our instruments is carefully considered for many different characteristics to ensure our plugins are delivering on the quality of sound for which Output is known. It's my job to research and compare against what is on the market to know what is possible and what to strive for sonically. For example, I have to answer questions such as, "Should users be able to pitch a sound by two, or four octaves?" I say four octaves!
What does a day in the life at Output look like?
This is always changing for me. Some days I am listening through content and staring at spreadsheets for hours on end while other days I'm beta testing software for bugs and general user experience. When we have recording sessions booked, I'm in the studio for a full day of engineering and producing. Obviously, these sessions are some of my favorite days at Output.
Speaking of great days, occasionally I'll get to sample vintage drum machines and play around with modular synths.
What was your starting point in music?
Music education in public schools is where I got my start. I began playing bass and taking private lessons in elementary school, then moved on to tuba and trombone in middle school. I played in wind ensembles, jazz bands, and orchestras throughout high school, which then led me to Berklee College of Music where I found my way in music technology. I started making beats using Logic in 2009 and really fell in love with the sonic possibilities of it all. I gained some invaluable experiences and I wouldn't be where I am today if it weren't for that exposure and immersive creative environment.
After graduating with a dual major in electronic production and design/music production and engineering I moved to Los Angeles in 2012 and began working at a recording studio as an intern. I worked my way up to runner, assistant, and finally engineer before I left the studio in 2015. Before moving on to pursue a life and career outside of the traditional engineer track, I learned how to run a studio from the ground up and earned a Grammy nomination in 2014 for my work on Common's album, Nobody's Smiling.
Between 2015-2016, I hopped around from Denver to Philadelphia working on my own music and doing odd jobs. In 2016, I started making presets for SIGNAL, which eventually led me back to LA as a full-time sound designer at Output.
How do you balance all your creative endeavors?
I try to keep an eye on the bigger picture. It's easy to become overwhelmed with the day-to-day distractions and stresses of being a human in the 21st century. Focusing on growth as an artist and making the world a more enjoyable place to live usually brings me back to what truly matters.
Sometimes I like to imagine myself in outer space staring down at Earth, realizing that I am a part of something bigger than myself and there is nothing to do but be a part of it in the best way I can.
What is your most recent musical project?
I started building modular synth DIY kits about a year and a half ago. Modular music-making has completely transformed my creative process. For a long time, I was stuck inside my laptop, caught up in polishing sounds rather than making something to which people can relate.
Using modular synths has allowed me to get back to playing music again. Since I started making electronic music, pretty much every track has contained something within it that I did not own, whether that is a sample from a record or drum sounds found on the internet. Although I made a lot of music that I am really proud of, I can never sell most of it as I do not own the rights.
After the 2016 election, I started thinking about how there are so many possible outcomes for any given situation that I never consider. This sparked an experimental music series called Possible Outcomes, where each piece of music is the outcome of the materials at my disposal at that time. I keep editing to a minimum and focus primarily on conveying emotion.
What is the most beautiful sound in the world?
Random noises in everyday life can be beautiful. For years now, I've been making recordings on my iPhone and using these sounds as part of my compositions.
In an effort to keep my sanity while working as a cashier in Denver, I would tune in to the sounds around me as inspiration for my music. The check scanner was always an interesting sound to me and seeing as how checks are not as common as they used to be, it was rare to use the check machine at work. The sounds in the beginning half of my piece "Check Plz – 97bpm" are all from a recording of a check scanner.