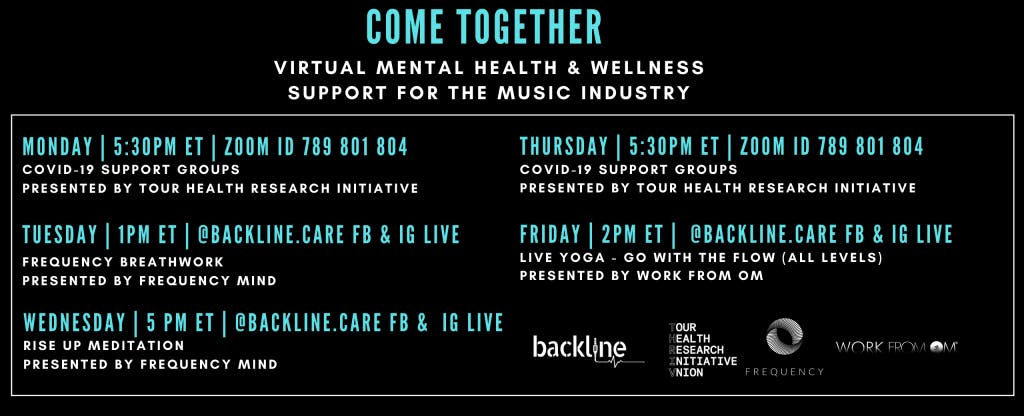 We understand that many of us may be experiencing anxiety, pain, anger, or confusion as a result of the state of the world today. You don't have to go through it alone. Here are a few organizations that can help musicians make sense of their mental health:
Silence The Shame is an initiative founded by music industry veteran Shanti Das. Sharing her own experience growing up without her father who was a victim of suicide at an early age, Shanti hopes to peel back the layers of shame and stigma surrounding mental health with the help of her organization through community conversations, compelling content, and outreach programs. https://www.youtube.com/watch?v=jwZ4ilQB8YY
Backline was created to provide easy access to preventative care and crisis management services for the music community by connecting music industry professionals to a network of trusted organizations and care providers that understand this line of work. In response to the increasing anxiety surrounding coronavirus, Backline has launched the Come Together: COVID-19 Crisis Initiative, which includes bi-weekly support groups, meditation, breathwork, yoga, and other virtual experiences to support the music industry during these times.
The Recording Academy's charity MusiCares provides a safety net of critical assistance for music people in times of need. MusiCares' services and resources cover a wide range of financial, medical, and personal emergencies, and each case is treated with integrity and confidentiality. They have recently established the COVID-19 Relief Fund to help our peers in the music community affected by the Coronavirus pandemic. https://www.instagram.com/p/B_0RsYRFZHa/?utm_source=ig_web_copy_link
The Wishart Group was founded by Passion Pit frontman Michael Angelakos to create and house nonprofit and for-profit services and build programs for musicians to develop solutions for communities in need, such as donating intellectual property and revenue streams to institutions. Changing the tune, The Wishart Group is encouraging artists to speak up and encourage one another with services that directly impact artists.
Sweet Relief Musicians Fund provides financial assistance to all types of career musicians and music industry workers who are with illness, disability, or age-related problems. They have created a program to support musicians affected by the pandemic. Their DONOR-DIRECTED FUND is available to be used specifically for musicians and music industry workers affected by the Coronavirus. https://www.instagram.com/p/CAtEqU-Fv_x/
Find Resources in Your City
Los Angeles
The state of California has a guide to managing stress at home. "Match with a Therapist" using the Frame The L.A. County Department of Mental Health's Helpline is open 24/7. Number: (800) 854-7771 Angelenos receive free premium access to Headspace, the mindfulness and meditation app.
New York
NYC Well – free, confidential mental health support. Contact your county health office New Yorkers receive free premium access to Headspace, the mindfulness and meditation app.
London
Free listening services – Call 116 123 to talk to Samaritans Find a local NHS urgent mental health helpline Free mental wellbeing audio guides Visit the mental health and wellbeing section of the NHS website to find useful tips and links
San Fransisco
Explore useful wellness and mental health Apps recommended by the UCSF The California Peer-Run Warm Line. A low-threshold mental health resource that people can use to seek support before they reach the crisis point. Toll-Free Number: 1-855-845-7415 Web ChatMental Health Screening Tools Visit the San Fransisco Resource Connect website to find useful tips and links
Toronto
Visit the Mental Health Helpline or Call 1-866-531-2600 Canadian Red Cross' Psychological First Aid Pocket Guide Canadian Psychological Assosiation COVID-19 fact sheets & resources Wellness Together Canada: Mental Health and Substance Use Support
Minneapolis
Crisis services are available 24/7 – Call **CRISIS (**274747) or Text "MN" to 741741 /li> National Allience on Mental Health Minnesota Warmlines MN – Call 651-288-0400 or 877-404-3190 Text "support" to 85511 Explore more mental health resources provided by the state of Minnesota here.
Nashville
Crisis services are available 24/7 – Call 855-CRISIS-1 (855-274-7471) or Text "TN" to 741-741 /li> If you are 18 years of age or older, have a serious mental illness, and have no behavioral health insurance, you may qualify for the Behavioral Health Safety Net of TN program. Free mental health screening tools Call the TDMHSAS Helpline (800) 560-5767 to talk to an advocate who will listen to your concerns and provide information about available resources in your area.
BIPOC Mental Health Resources
Melody Li, FMFT, developed Inclusive Therapists hoping to create a place where individuals of a wide range of backgrounds could go to find transparent and value-based inclusive care. In an attempt to reduce the impact of COVID-19, they are offering reduced-fee virtual therapy.
BEAM is a training, movement building and grant making organization dedicated to the healing, wellness and liberation of Black and marginalized communities. They work to remove the barriers that Black people experience getting access to or staying connected with emotional health care and healing, through education, training, advocacy and the creative arts.
Sahaj Kohli founded Brown Girl Therapy so that those who hail from immigrant backgrounds—especially South Asians, first-gens, hyphenates, and women of color—had a place to learn more about therapy and identity exploration.
The National Queer and Trans Therapists of Color Network (NQTTCN) is a healing justice organization committed to transforming mental health for queer and trans people of color (QTPOC). It was founded by Erica Woodland in 2016 (and inspired by the QTOC, which was founded in 2009) to increase access to healing justice resources for QTPOC.
The Loveland Foundation provides financial assistance and access to culturally competent therapy and services for black women and girls nationwide.
QTPOC Mental Health is a grassroots trans-led organization with the stated mission of "creating online and offline spaces for trans & queer people of color to practice being their whole selves" founded by Dom Chatterjee. QTPOC Mental Health exists to "connect trans and queer people of color to resources, including each other, and create online and in real life support."
The Asian Mental Health Project, founded by Carrie Zhang, exists to prevent Asian individuals from the fear and guilt that are often associated with mental illness. By increasing dialogue via storytelling and helping spread support resources with mental health professionals, they make it easier for Asian folks to be open to the idea of mental health support and treatment.
For a comprehensive list of BIPOC mental health resources, we found these compilations the most helpful: 44 Mental Health Resources for Black People Trying to Survive in This Country – Self Magazine Black Lives Matter. Black Mental Health Matters Too – To Write Love on Her Arms
If you are in crisis, please call the National Suicide Prevention Lifeline at 1-800-273-TALK(8255) or contact Crisis Text Line by texting TALK to 741741.